Lawrence Parts Specials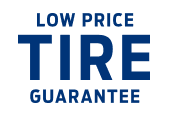 Valid on dealer-installed retail purchases only
Requires presentation of competitor's current price ad/offer on exact tire sold by dealership within 30 days after purchase.
Excludes tires sold by third parties on marketplace sites and any resellers.
See service advisor for details
Laird Noller Auto Group
, Topeka, KS
Service:
Lawrence Ford
Find Lawrence Parts Coupons at Laird Noller Auto Group
When your vehicle is in need of maintenance, and you want to perform it yourself, you need to find the right parts for the job. Fortunately, there is Laird Noller Auto Group, where you can take advantage of Lawrence parts coupons to save even more. There are several benefits of choosing OEM parts for all of your vehicle maintenance projects. Learn about some advantages of OEM parts as well as a few reasons why routine vehicle maintenance is a must.
Keep Your Vehicle in Pristine Condition
There are several reasons why you should keep up with the recommended service intervals for your vehicle, and our Lawrence parts coupons help to make it affordable.
If you want your vehicle to operate at peak performance, it needs to be maintained properly.
A well-maintained vehicle is safer and it runs more efficiently.
Recommended vehicle maintenance keeps your warranty valid.
Advantages of OEM Parts
When searching for parts discounts Lawrence, KY drivers often look to aftermarket parts to help save a bit of cash. While some aftermarket parts are a little more affordable upfront, they often will be more costly down the road. Below are just a few reasons to always go with OEM parts.
OEM parts have been created to be a perfect fit for your vehicle. Because aftermarket parts are designed to work in several different makes and models, the one you choose may not be exactly right for your car.
OEM parts come with a warranty. In most cases, aftermarket parts are not covered against defects.
Some aftermarket parts could void your vehicle warranty or damage your vehicle.
Shopping for OEM parts is hassle-free. There is typically only one replacement part available, so you don't have to sort through dozens of options, hoping the one you choose will work for your vehicle.
Contact Laird Noller Auto Group Today
Explore our Lawrence parts coupons before stopping by to pick up the part you need. You can also order parts from the comfort of your home. Contact us with any additional questions.